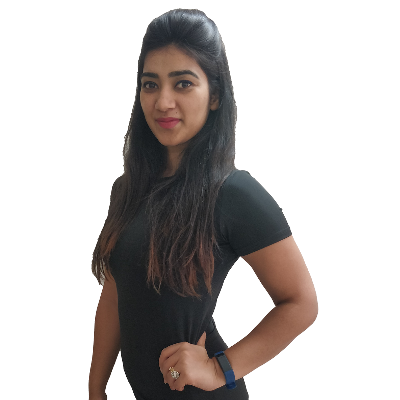 Asmita Shah

 | 1 minute to read
EXERCISE MYTHS THAT YOU NEED TO STOP BELIEVING NOW!
#𝘔𝘺𝘵𝘩 1: 𝘞𝘦𝘢𝘳 𝘺𝘰𝘶𝘳 𝘩𝘰𝘰𝘥𝘪𝘦 𝘢𝘯𝘥 𝘣𝘶𝘳𝘯 𝘮𝘰𝘳𝘦 𝘧𝘢𝘵.

⏩Sweating is the body's response to maintain its core temperature i.e whenever the body temperature goes up, the body tries to bring it back to normal by releasing sweat through sweat glands. When this water evaporates from the skin, it leaves the cooling effect also referred to as evaporative cooling. Sweating doesn't mean that you are burning more fat. #𝘔𝘺𝘵𝘩 2: 𝘐 𝘸𝘪𝘭𝘭 𝘱𝘦𝘳𝘧𝘰𝘳𝘮 500 𝘴𝘲𝘶𝘢𝘵𝘴 𝘥𝘢𝘪𝘭𝘺 𝘵𝘰 𝘳𝘦𝘥𝘶𝘤𝘦 𝘮𝘺 𝘵𝘩𝘪𝘨𝘩 𝘧𝘢𝘵. ⏩You cannot dictate your body to burn fat from a particular part of the body. 𝐓𝐡𝐞𝐫𝐞 𝐢𝐬 𝐧𝐨 𝐰𝐚𝐲 𝐭𝐨 𝐭𝐚𝐫𝐠𝐞𝐭 𝐚𝐧𝐲 𝐬𝐩𝐞𝐜𝐢𝐟𝐢𝐜 𝐚𝐫𝐞𝐚 𝐨𝐟 𝐟𝐚𝐭 𝐨𝐧 𝐲𝐨𝐮𝐫 𝐛𝐨𝐝𝐲. Trying to spot reduce is like trying to empty just one corner of a swimming pool using a bucket. #𝘔𝘺𝘵𝘩 3: 𝘐 𝘢𝘮 𝘣𝘰𝘳𝘦𝘥 𝘰𝘧 𝘵𝘩𝘦 𝘴𝘢𝘮𝘦 𝘸𝘰𝘳𝘬𝘰𝘶𝘵 𝘳𝘰𝘶𝘵𝘪𝘯𝘦. 𝘐 𝘵𝘩𝘪𝘯𝘬 𝘐 𝘴𝘩𝘰𝘶𝘭𝘥 𝘤𝘩𝘢𝘯𝘨𝘦 𝘮𝘺 𝘸𝘰𝘳𝘬𝘰𝘶𝘵. 𝘐𝘵'𝘴 𝘣𝘦𝘦𝘯 2 𝘸𝘦𝘦𝘬𝘴. ⏩Progress takes time.Whenever you start with a new routine, your body needs time to adapt to it and to learn the technique. Over time, with practice, you become more efficient and reap the benefits out of it. If your routine is starting to feel familiar, increase your reps/sets/weight to keep progressing and make it more challenging. #𝘔𝘺𝘵𝘩 4: 𝘐 𝘯𝘦𝘦𝘥 𝘵𝘰 𝘸𝘰𝘳𝘬𝘰𝘶𝘵 𝘦𝘷𝘦𝘳𝘺 𝘥𝘢𝘺. ⏩Rest and recovery is an essential part of any workout routine. Exercise or any other physical work causes fluid loss, muscle tissue breakdown, and the depletion of energy stores (muscle glycogen). Recovery allows the body to replenish energy stores and repair damaged tissues so that you come back stronger and better. #𝘔𝘺𝘵𝘩 5: 𝘛𝘩𝘦 𝘮𝘰𝘳𝘦 𝘴𝘰𝘳𝘦 𝘺𝘰𝘶 𝘢𝘳𝘦 , 𝘵𝘩𝘦 𝘣𝘦𝘵𝘵𝘦𝘳 𝘵𝘩𝘦 𝘸𝘰𝘳𝘬𝘰𝘶𝘵. ⏩There is 𝐧𝐨 𝐞𝐯𝐢𝐝𝐞𝐧𝐜𝐞 that suggests more soreness/pain leads to more muscle damage or hypertrophy. Go for a quality session rather than chasing quantity and soreness. #𝘔𝘺𝘵𝘩 6: 𝘞𝘦 𝘯𝘦𝘦𝘥 𝘵𝘰 𝘥𝘰 𝘩𝘰𝘶𝘳𝘴 𝘢𝘯𝘥 𝘩𝘰𝘶𝘳𝘴 𝘰𝘧 𝘤𝘢𝘳𝘥𝘪𝘰 𝘵𝘰 𝘭𝘰𝘴𝘦 𝘸𝘦𝘪𝘨𝘩𝘵. 𝘚𝘵𝘰𝘱 𝘳𝘶𝘯𝘯𝘪𝘯𝘨 𝘰𝘯 𝘢 𝘵𝘳𝘦𝘢𝘥𝘮𝘪𝘭𝘭 𝘭𝘪𝘬𝘦 𝘤𝘳𝘢𝘻𝘺! ⏩Resistance Training has been shown to reduce the risk of cardiovascular disease. You don't need to do a lot of "CARDIO" unless you are a marathon runner and it's what your sport demands. Resistance Training combined with Cardio can yield best results. #𝘔𝘺𝘵𝘩7 : 𝘐 𝘸𝘪𝘭𝘭 𝘴𝘵𝘢𝘳𝘵 𝘭𝘰𝘰𝘬𝘪𝘯𝘨 𝘭𝘪𝘬𝘦 𝘢 𝘮𝘢𝘯 𝘣𝘺 𝘭𝘪𝘧𝘵𝘪𝘯𝘨 𝘸𝘦𝘪𝘨𝘩𝘵𝘴. ⏩𝘋𝘦𝘢𝘳 𝘓𝘢𝘥𝘪𝘦𝘴 - 𝘭𝘪𝘧𝘵 𝘸𝘦𝘪𝘨𝘩𝘵𝘴! 𝘠𝘰𝘶 𝘸𝘪𝘭𝘭 𝘭𝘰𝘰𝘬 𝘮𝘰𝘳𝘦 𝘵𝘰𝘯𝘦𝘥 𝘢𝘯𝘥 𝘤𝘰𝘯𝘧𝘪𝘥𝘦𝘯𝘵. Muscle gain is a very slow process. The heavily muscular women that you see in bodybuilding contests have most likely taken the help of anabolic steroids to achieve that aesthetic look. According to surveys, women have higher proportions of slow twitch muscles fibers than the fast twitch than men. Slow twitch doesn't grow as much in size as fast twitch muscles fibers. So even if you gain muscles, you will not manly! Happy exercising !